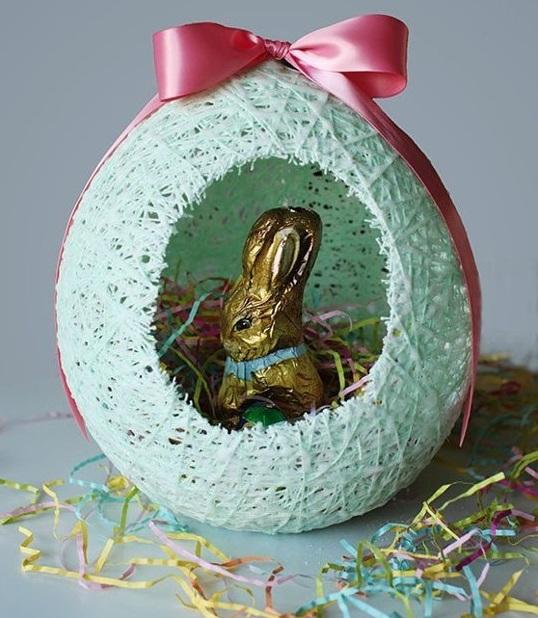 Image: pinterest.com
A Easter is a time of celebration, so friends and family gather, delicious dishes are cooked, and small gifts are offered. Some Easter traditions are chocolate and decorated eggs, Easter bunnies, almonds and Easter baskets. These baskets can be made in a variety of ways and filled with chocolate eggs, bunnies, among other things. One of the ways you can make these baskets is with string, a cheap material with which you will achieve an original result. If you want to learn how to make easter basket with string, follow the step by step in this article from umCOMO.
Steps to follow:
1
This string Easter basket can be used to give as a souvenir to someone special, or serve as a home decoration for this date. The first step is to fill the bladder with the size you want to give to your Easter basket. For each basket you need one bladder, because at the end we will pop it and it will no longer be possible to reuse it.
2
To make it easier to work on the bladder, you should hang it somewhere by knotting the end with string. Then put a little Vaseline all over the bladderThis way the lines will come loose from the balloon more easily after drying.
3
Now in a container mix 125 ml white glue, 1 and 1/2 tablespoons cornstarch and 75 ml warm water. Mix well until you get a homogeneous paste and the bubbles are gone.
4
Dip the string through this mixture and begin to wrap it around the bladder, always passing the string first in the glue mixture. You can wrap the string in different directions to form different designs. Just make sure to create a very thick layer of string so that the Easter basket has some consistency.
Image: blogdatitiavera.blogspot.co.uk
5
Let the bladder dry for 24 hours and then pop the balloon and remove all the little pieces, in the end you will be left with the string structure.
Now you have two options to make your Easter basket with string: with handle or without handle. If you want the basket with handle, then start by opening one gender of a little door on your string egg. Do the same on the other side so that you have the handle. To make it easier, you can use a paper template to cut out your handle.
Image: diycozyhome.com
6
If you want your Easter basket with string without handle, the only thing you have to do is to cut the string egg in half. In this way, with only one egg you get two small Easter baskets.
Image: tsuruhaus.com
7
In addition, you also have a very original way to make your Easter basket with string. As with the basket with handle option, you can cut a genre of a little door on your egg, but leave it like that, without making the same on the other side.

8
Now you just need to give your string basket a finish and decorate it. For this, you can use fabric ribbons with frills or just colored ribbons, whichever you like best. Glue the ribbons on both sides of the strap or around the little door that you made with hot glue. You can make a bow of satin ribbon and glue it on top.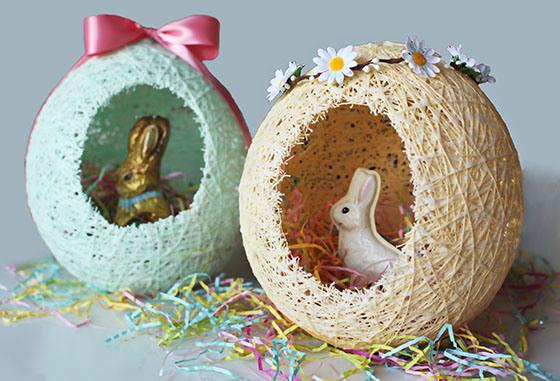 Image: haywoodstreet.org
9
Now just fill yours Easter basket with string with whatever you wish. You can put at the bottom shredded cellophane paper with scissors, colored natural raffia or even cotton. Then depending on whether the basket is to decorate or to give as a gift, you can fill it with decorative objects or chocolate eggs and almonds. You can see more tips on what to put in the Easter basket in this other article.
If you want to read more articles similar to How to make easter basket with string, we recommend you enter our Art and crafts category.