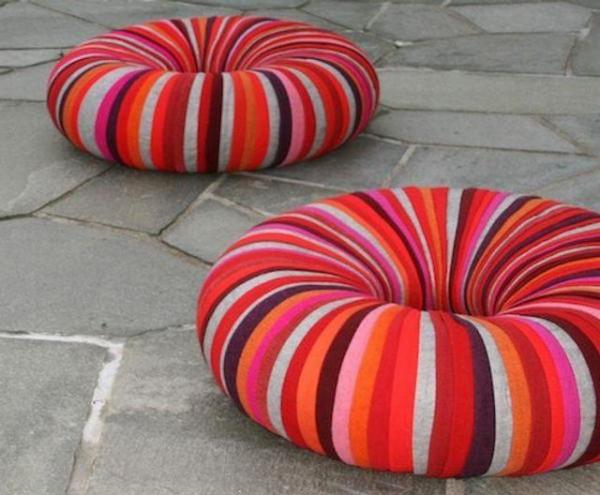 The puffs are ideal to give our house a relaxed, modern and comfortable look, being the ideal type of seat when there are children and young people at home. They look very good and the best is that to have them you don't need to invest a lot of money, just reuse a car tire that you don't use anymore and some materials to be able to do this very nice and easy manual work. Want to try it out? Then keep reading this article, because in aComo.com.br we will explain to you how to make a puff with tires incredible, fun and economical.
Steps to follow:
1
To make this fabulous and original puff with tires you don't need many things, just the following materials basic:
1 or more tires
Rubber Foam
Colored or printed fabric
The choice of the right fabric will be the most important step in the elaboration, because you will end up lining the tire with it, so it should match perfectly with the rest of the decoration of the room where you intend to put your puff.
2
To start making your tire, the first thing to do is cover the whole tyre with the rubber foamthe thicker it is, the more padded your puff will be. So it's important to pay attention to this step. Make sure you do not leave parts uncovered as once you have closed it, there is no way to tidy it but by tearing, so it is important to cover everything very well and also fill the inside of the tyre.
3
The second step to do this puff with tires is to take a piece of fabric that covers the entire tyre, making sure that no visible space is left and then sew on the inside strongly and tightly. It is recommended to use a sewing machine, but it is not mandatory to have it to finish our work, since with good technique we will be able to do it perfectly. You don't need to have a piece of fabric that is long enough to cover the entire tire, you can take different pieces and go around sewing, you can even create a beautiful patchwork cover.
4
If you want a highest puffjust put one tire on top of the other and screw them in. Instead of using foam rubber to cover the center hole of the tire, you can also put an mdf circle. Simply screw two mdf disks up and down.
5
Then you can cover the tire and mdf discs with natural or colored sisal rope. To cover the mdf discs, you must glue one of the ends of the cut right in the center of the disc and keep making snail movements with the cord until the cover is covered with the sisal cord. Then pass white glue on the edge of the mdf and on the rubber, continuing to pass the rope through the entire circle until the tyre is covered. You don't need to pass the rope through the other mdf disc, as this will be the part that faces the ground.
6
To finish your puff made of tire and covered with sisal rope, give a coat of sealer with a brush. Let it dry well and then give it another coat. And then you have a fantastic puff for decorate your home. As you can see it's not too hard to do and you can use your imagination to create a very original and cool puff!