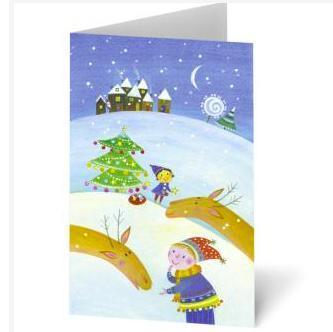 Christmas is approaching and one of the best ways to Season's Greetings to people who are far away, but we want them to feel close to us these days, is by sending them a Christmas card. More and more people are choosing to send a Christmas card in digital format but there are still many who prefer to follow the traditions and make a Christmas card at home and write a personalized message. Next, we give you some ideas for make Christmas cards.
Steps to follow:
1
First you should make a list of the people you want to send a Christmas card. A trick to remember quickly is to keep the list of people to whom sent a Christmas card last year.
2
Once you have the list of people, you should decide whether to send the Christmas card online or in the traditional way.
3
If you send the Christmas card, with a paper card and a personalized text you must buy the postcards. A very recommendable place are the Unicef postcards, bear in mind that it takes about two days to receive the postcards at home, so you should buy them early enough.
4
In case you want to write the Christmas cards Through the Internet, you will have at your disposal several free sites that have a multitude of postcards, animated, personalized, with photos, use your imagination.
5
Once you have chosen your Christmas cards and with you, you should decide what to write on the Christmas card, then we propose some examples:
"May the child Jesus, with his infinite love and goodness, enlighten your home and fill it with joy and peace! Thus do your friends wish you."
"With our best intentions come our sincere wishes for a prosperous New Year. Happy Holidays!"
"We wish you well in these festivities! With the wish that this night of peace is only the beginning of a year full of success and joy! Merry Christmas from the bottom of my heart!"
"May the baby Jesus bless your lives at these feasts! Merry Christmas and may the joy of the holidays be repeated every day of the year!"
6
It is important that the Christmas card be personalized, you can put a standard message and one personalized to make this special person feel. Also wish health and happiness to your family and not just the person who is sending the postcard.
7
The most suitable dates to send the Christmas card are between 12 and 18 December if sending by paper mail and between 20 and 22 December if sending the Christmas card over the internet.
If you want to read more similar articles to How to make Christmas cardsWe recommend that you enter our category of Art and Crafts.
Tips
Use Christmas cards with comforting or religious images so that the Christmas message reaches your friends and family.
Online Christmas cards are less personal than those sent on paper by post, but they are more economical and on these dates it always helps.